What is sclerotherapy treatment?
Sclerotherapy treatment is often the option of choice for patients who want to close or remove varicose veins and/or spider veins on their legs. Sclerotherapy is a quick, comfortable, and proven non-invasive procedure that is done during a standard office visit on an outpatient basis.  Sclerotherapy treatment results in no downtime or effect on a patient's normal activities.
Sclerotherapy involves an injection of a proven and safe solution (liquid or foam sclerosant) directly into the spider veins or varicose veins being treated, either visually or ultrasound-guided. This injection, using a tiny needle and local anesthetic to eliminate any discomfort, causes spider veins and varicose veins to collapse. As a result, blood is rerouted to healthier veins and the unhealthy vein is reabsorbed by the body, fading from view.
Veins treated with sclerotherapy respond quickly. Depending on the extent and severity of the varicose veins and/or spider veins being treated, multiple sclerotherapy treatments may be needed to completely close or remove the veins at issue.
Following sclerotherapy treatment, patients are fitted with compression bandages or socks, which must be worn for about a week to ensure optimal sclerotherapy results. Patients are able to return to normal activities immediately following the procedure.
Sclerotherapy at Muto Vein Center
Board Certified Vascular Surgeon Dr. Paula Muto and her team of leading varicose and spider vein treatment specialists have more than 25 years of experience and have performed thousands of highly-effective sclerotherapy procedures. Our team is committed to helping patients quickly and effectively treat a wide-variety of vascular conditions in a comfortable, efficient outpatient setting.  
Schedule your free consultation
Benefit from our experience and get the right sclerotherapy treatment, the first time. Schedule a free in-person consultation with Dr. Muto to discuss your concerns and treatment options available to help you look and feel your best as quickly as possible.
Sclerotherapy costs + insurance coverage 
Sclerotherapy costs are typically covered by insurance for many vascular conditions.  Muto Vein Center accepts many types of insurance plans, including private, Medicare, and Medicaid plans. If you have questions about sclerotherapy costs, your condition, and/or the procedure, please don't hesitate to contact us or schedule a free vein consultation. Financing options are also available for treatment that is not covered by insurance and for those who choose to pay directly, including HSA, FSA, and CareCredit.
Let's schedule a few minutes to discuss your concerns, condition, and how we can help.
Why Choose
Muto Vein Center?
Dr. Muto is a respected, board-certified vascular surgeon with over 25 years of experience. She has performed thousands of successful vein treatment procedures across the spectrum of lower extremity vascular conditions. You're in good hands at Muto Vein Center.
We use the latest and most effective, evidence-based, minimally-invasive leg vein treatment techniques and technology to help you successfully resolve your condition—quickly, comfortably, and with little-to-no downtime or disruption to your life.
We understand the physical and mental impact your condition can have and the importance of achieving results that provide relief and help you look your best. Dr. Muto and her team are passionate about helping you achieve results that make you love your legs again.
Above all, we sincerely care about our patients and their satisfaction, happiness, and health. You can trust that we will treat you as a person and not a number, listen to you, work with skill, urgency, and efficiency, and do all we can to make your vein treatment a success.
IAC Accredited
Vein Center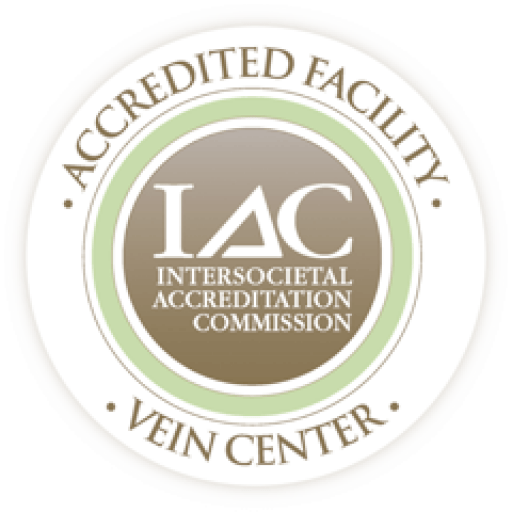 The Highest Level of Vascular Care
We are proud to be among an elite group of vein centers accredited by the Intersocietal Accreditation Commission (IAC) in the United States.
IAC Accreditation means you can be certain you will receive the highest level of care and competence at Muto Vein Center.
Insurance + Financing Options
Insurance plans typically cover most forms of vein treatment provided at Muto Vein Center. We accept many types of insurance plans, including private, Medicare, and Medicaid plans. Dr. Muto and her team work hard to ensure that our patients get the treatment they deserve and maximize available coverage under their plan.
For those paying directly out-of-pocket, we offer exceptional, efficient care for a fair and affordable cost.
Financing options are available for treatment that is not covered by insurance and for those who choose to pay directly, including HSA, FSA, and CareCredit.