Spider veins (telangiectasia) are small, thread-like veins near the surface of the skin. Spider veins often resemble the branches of a tree or spider webs, are typically red, blue, or purple, and are commonly found on the legs and feet.
Venous stasis dermatitis is a condition that typically affects the legs, ankles, and/or feet (although it can present in other areas of the body) resulting in swelling, pain, severe skin irritation (redness, soreness, discoloration, scaling, dryness, intense itch, shiny skin, cracked skin, thick skin), vein ulcers, infection, and other complications.
A venous ulcer is a wound or sore caused by a condition called venous insufficiency. Venous ulcers are a serious medical condition that require prompt, specialized vascular care to prevent serious complications, including infection.
Let's schedule a few minutes to discuss your concerns, condition, and how we can help.
Why Choose
Muto Vein Center?
Dr. Muto is a respected, board-certified vascular surgeon with over 25 years of experience. She has performed thousands of successful vein treatment procedures across the spectrum of lower extremity vascular conditions. You're in good hands at Muto Vein Center.
We use the latest and most effective, evidence-based, minimally-invasive leg vein treatment techniques and technology to help you successfully resolve your condition—quickly, comfortably, and with little-to-no downtime or disruption to your life.
We understand the physical and mental impact your condition can have and the importance of achieving results that provide relief and help you look your best. Dr. Muto and her team are passionate about helping you achieve results that make you love your legs again.
Above all, we sincerely care about our patients and their satisfaction, happiness, and health. You can trust that we will treat you as a person and not a number, listen to you, work with skill, urgency, and efficiency, and do all we can to make your vein treatment a success.
IAC Accredited
Vein Center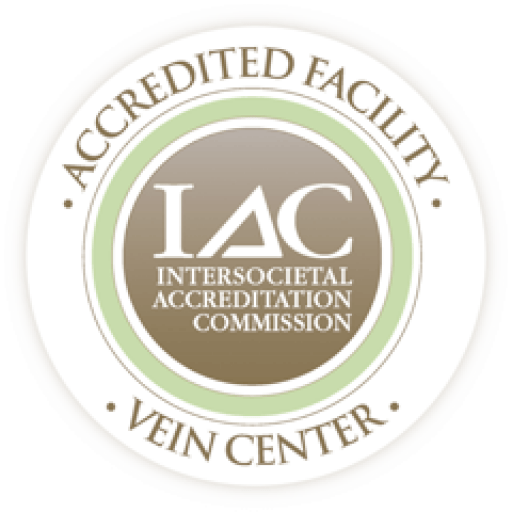 The Highest Level of Vascular Care
We are proud to be among an elite group of vein centers accredited by the Intersocietal Accreditation Commission (IAC) in the United States.
IAC Accreditation means you can be certain you will receive the highest level of care and competence at Muto Vein Center.
Insurance + Financing Options
Insurance plans typically cover most forms of vein treatment provided at Muto Vein Center. We accept many types of insurance plans, including private, Medicare, and Medicaid plans. Dr. Muto and her team work hard to ensure that our patients get the treatment they deserve and maximize available coverage under their plan.
For those paying directly out-of-pocket, we offer exceptional, efficient care for a fair and affordable cost.
Financing options are available for treatment that is not covered by insurance and for those who choose to pay directly, including HSA, FSA, and CareCredit.